Over the past weeks, we have explored stock market returns under both Democratic and Republican presidencies as well as during divided and unified administrations. We've also looked at the media's predictive fallibility and the importance of staying in the market. What does all this mean for the 2020 election though ?
Our four articles have highlighted the importance of staying calm and invested through all the political turmoil. As we've seen, the stock market has trended upward over time, during Republican and Democratic presidencies, as the graph below emphasizes. If there truly aren't any predictive measurements of stock performance when different parties are in power, an investor should focus on developing a comprehensive plan, adding regularly to their portfolio, utilizing tax-advantaged accounts when appropriate, and staying invested for the long-term.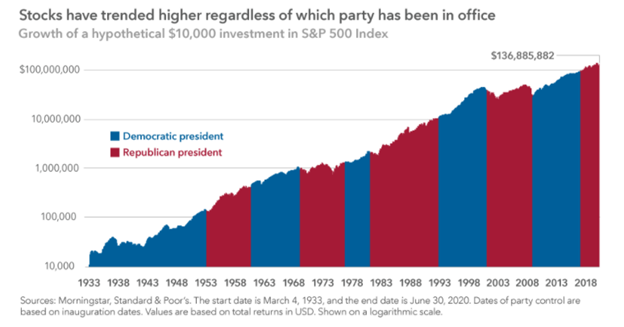 At Modus Advisors, we specialize in developing investment plans that have been proven effective over the long-term. If you have any questions on the impact of the presidential election on your portfolio or how we can help you develop a comprehensive plan to last during the election and beyond, please don't hesitate to contact us.